Art & Style in the KZN Midlands – Lime and Roses of Nottingham Road
Over the last few months, I have been truly inspired and energized by my collaborative work with Lynn Reynolds and her gorgeous brand and shop in the heart of Nottingham Road, Lime and Roses.
It has been exciting being part of her design process in launching a beautiful new bed linen collection, entitled 'In Leaf', which will be showcased at the East Coast Radio House and Garden Show from 29 June to 8 July in Durban this year.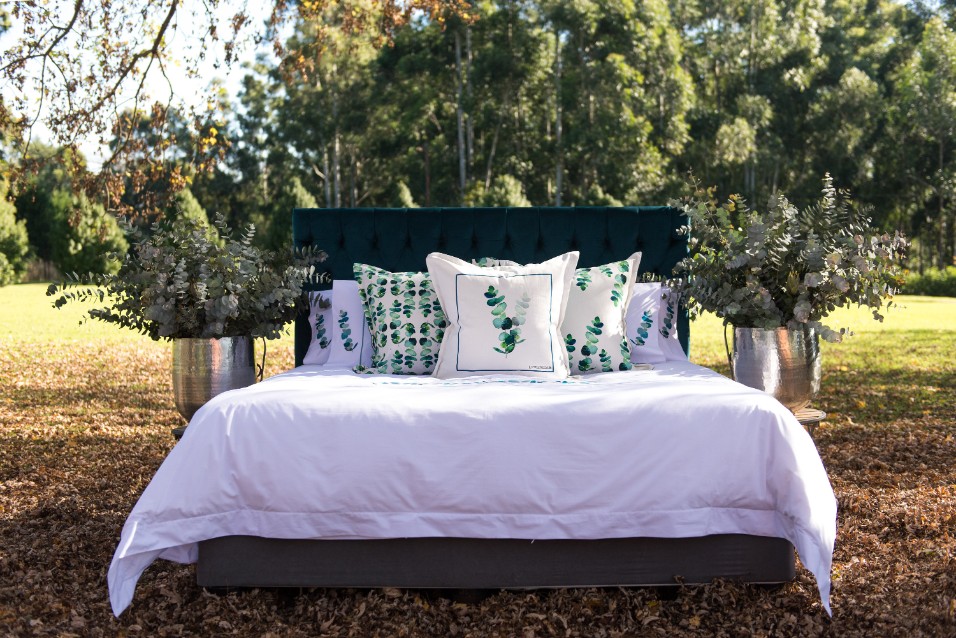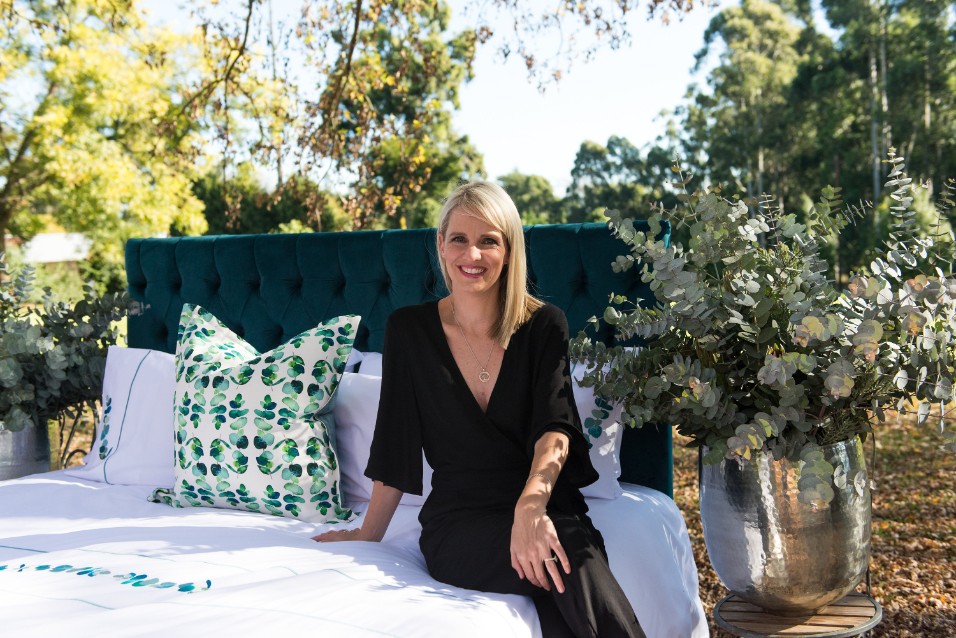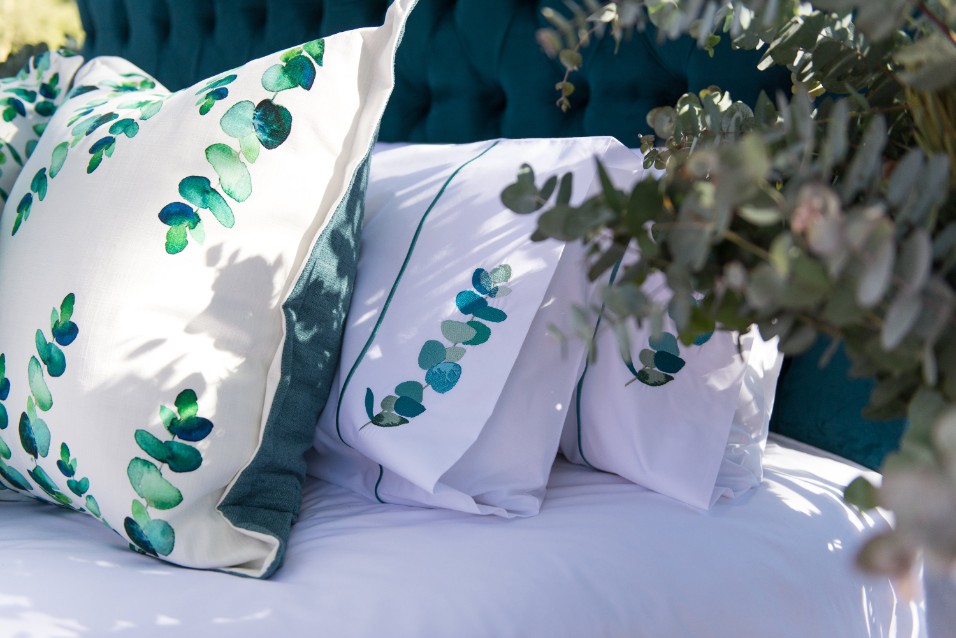 This range is inspired by the colour and life of our beautiful Midlands and it includes the most gorgeous embroidered duvet and pillowcase sets (all using 200 thread-count pure cotton percale), as well as a range of scatter cushions printed in the same designs on pure linens and cottons. The offering also includes upholstered headboards and beautiful linen lampshades.
Lynn's vision is to create everyday beauty in the lives of herself, her customers, and her collaborators, and this makes her such a catalyst for an artist like me.
What I find so inspiring about her is how she seeks that beauty in simplicity, nature, and the terrain of the Midlands, our little oasis of beauty and 'groundedness' in KwaZulu-Natal.
This is reflected in her passion for fine, art-piece quality, natural linens.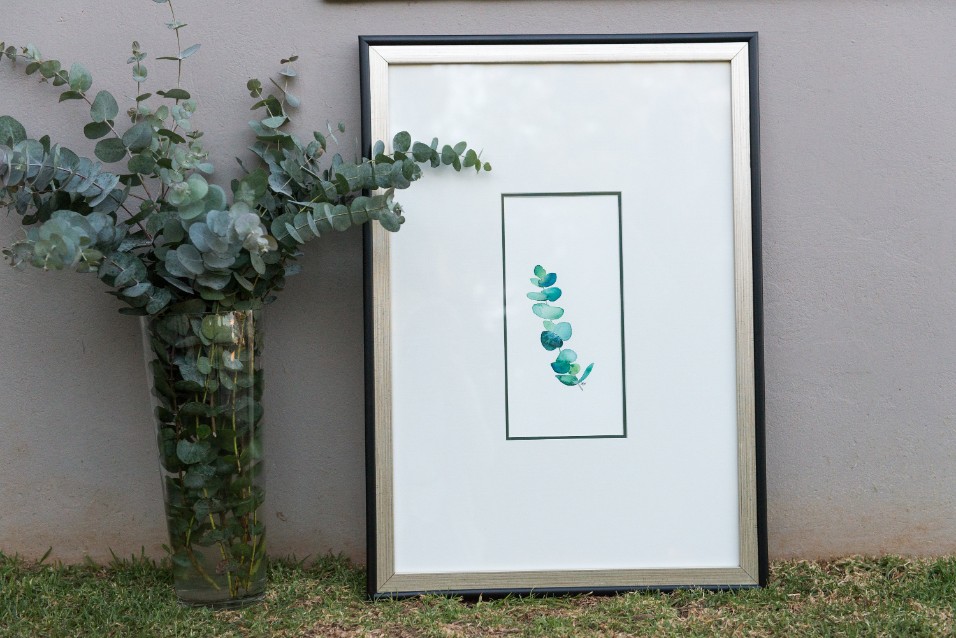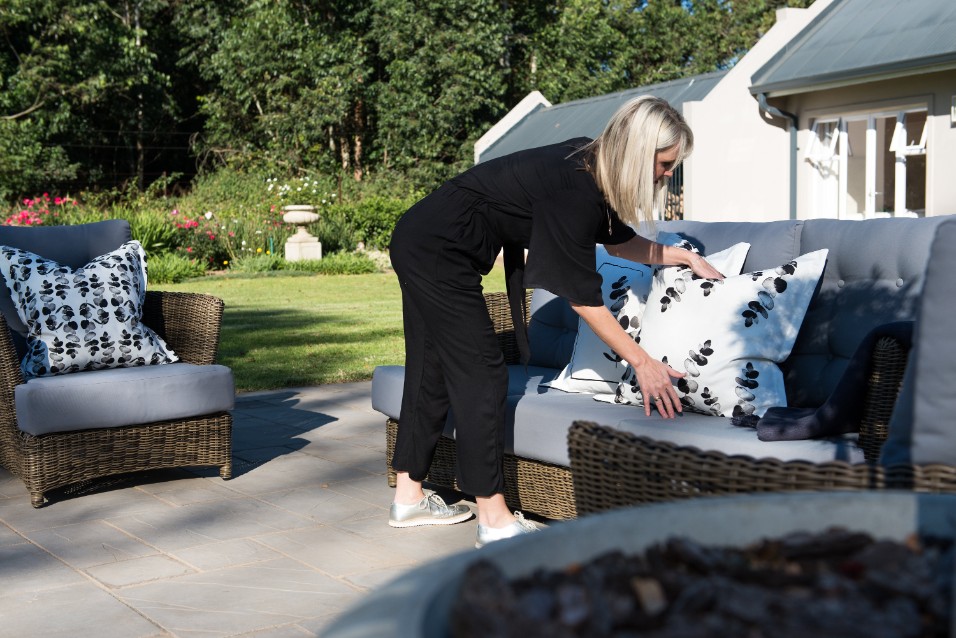 I sat down with Lynn Reynolds with a cup of Lineage coffee at the Coffee & Life Centre, neighbouring her gorgeous shop in the heart of Nottingham Road and tried to put words to her work and its inspiration.
I particularly loved hearing about the personal origins of her love for linens:
"Throughout my childhood I watched and learnt from my mother, who adored good linen. I watched her meticulously care for her Sandersons and linen tray cloths she hand-embroidered for her trousseau before her marriage, washing, starching and pressing them herself and then carefully storing them flat in drawers.
"She not only cared for them, but relished using them daily (we had lots of visitors), and she was ever generous in her serving of teas and meals. I grew up respecting the value of the fabric, and the sentimentality of setting a good table, and passing this on down the generations, and so to my daughters."
Lynn spent 20 years focusing on raising her daughters, by choice, but with one season of her life coming to a conclusion, she took the opportunity, and the inspiration given her by her own childhood, to reinvent herself as a purveyor of fine goods for beautifying one's home.
"I studied food and clothing technology in my youth, and so my natural instinct was to follow what was my love, fabrics, design, sewing and the likes. Instead of producing my own product I chose to seek exquisite product made in this country to sell, and so set up my shop, Lime and Roses.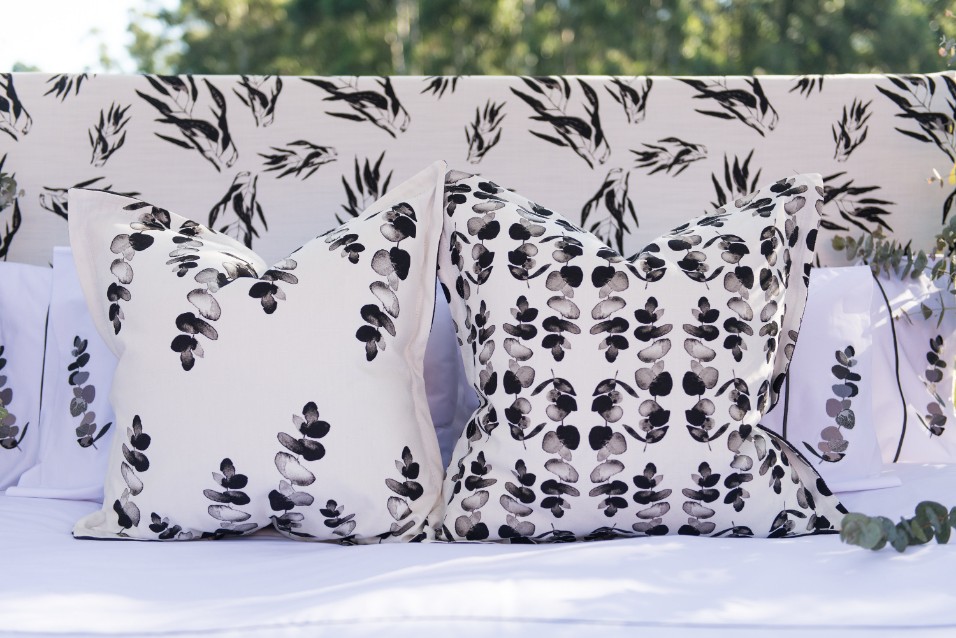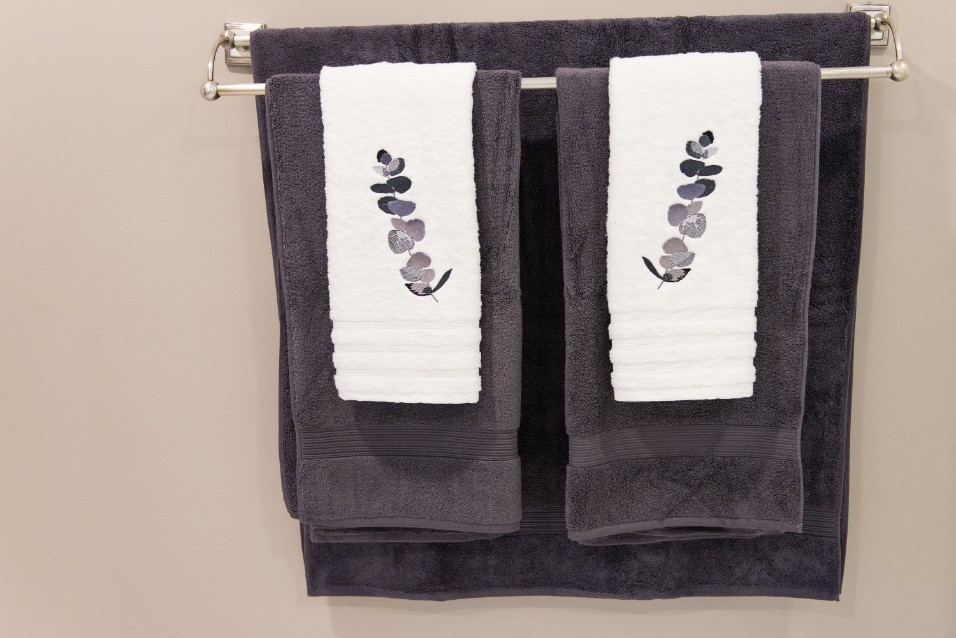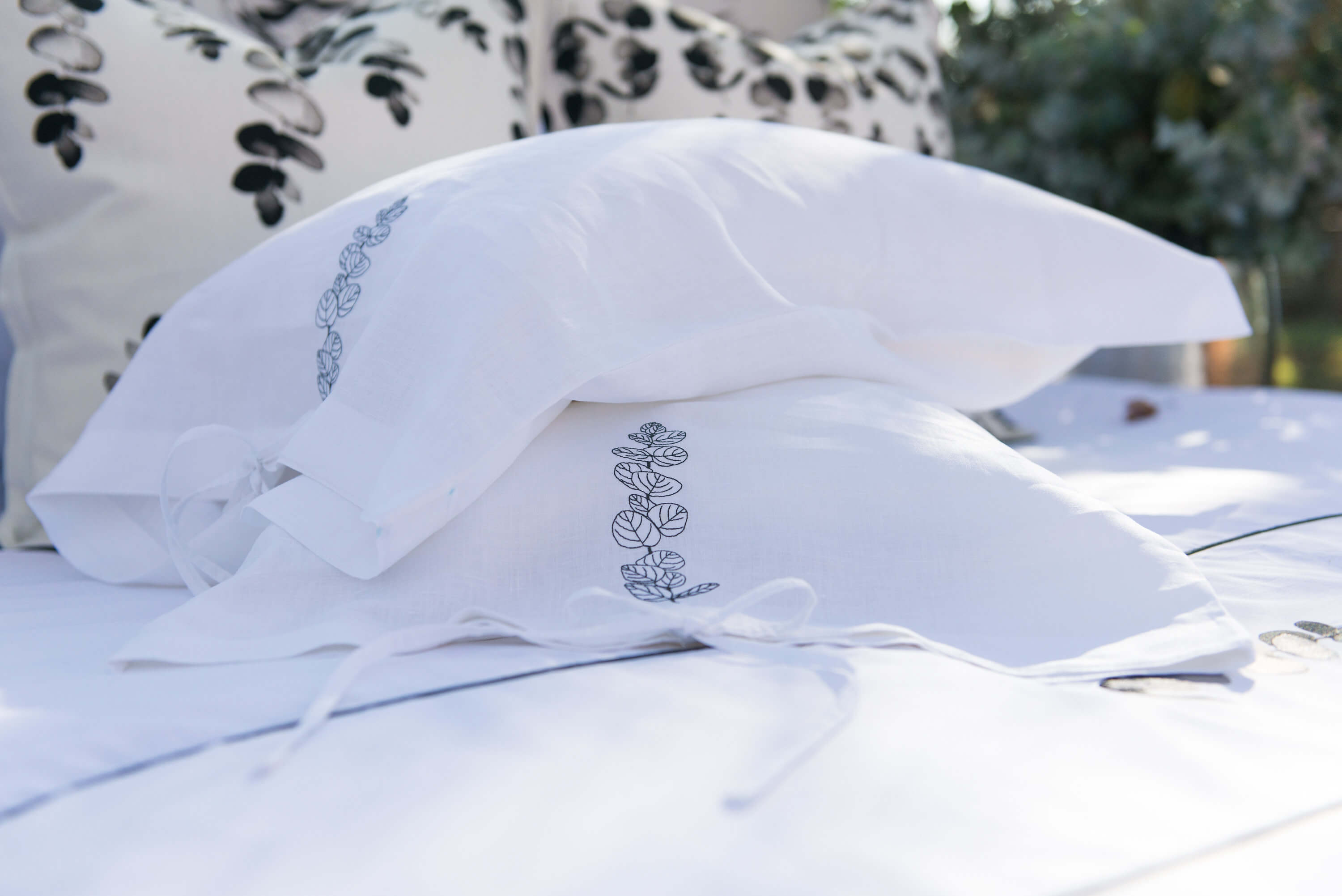 "I have chosen the colours as close to nature as possible, that is all the blues and greens of both our local gum and the penny gum. Once our artist, Lara Waldburger presented her interpretations of the theme, it was really easy to make the colour choices. Her outstanding watercolours completely lent themselves to the natural movement of colour within the art scape of the leaves on the trees.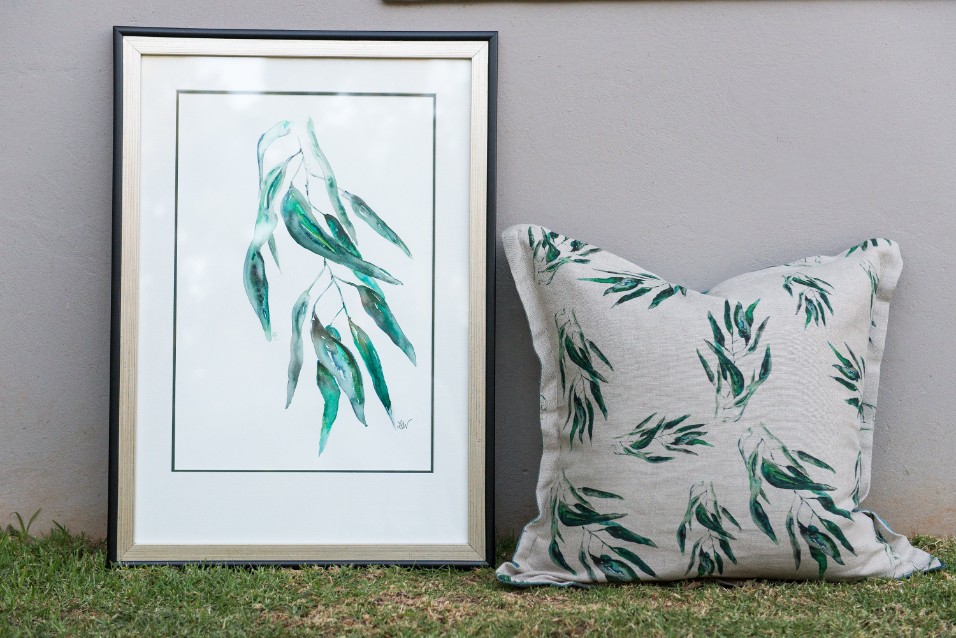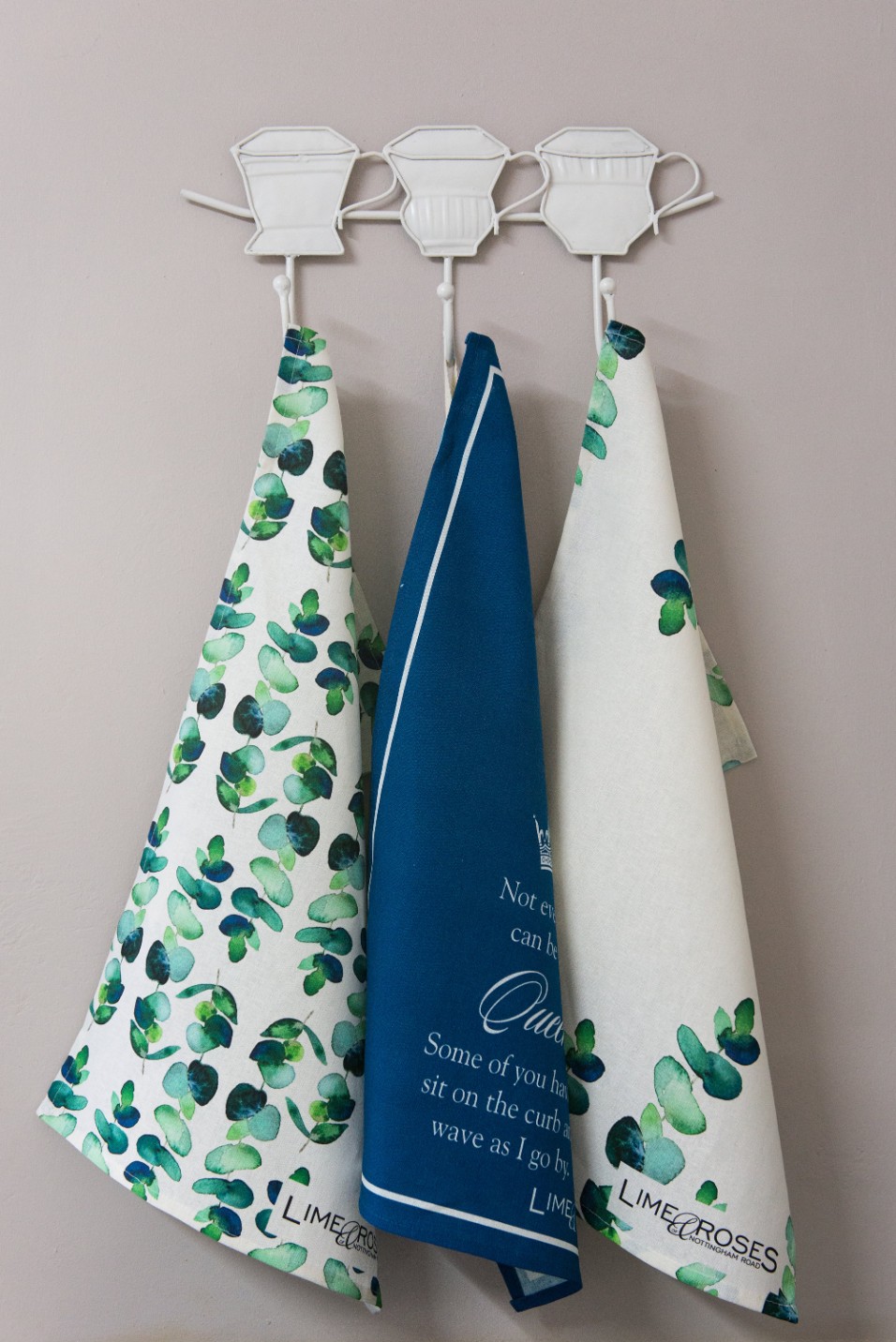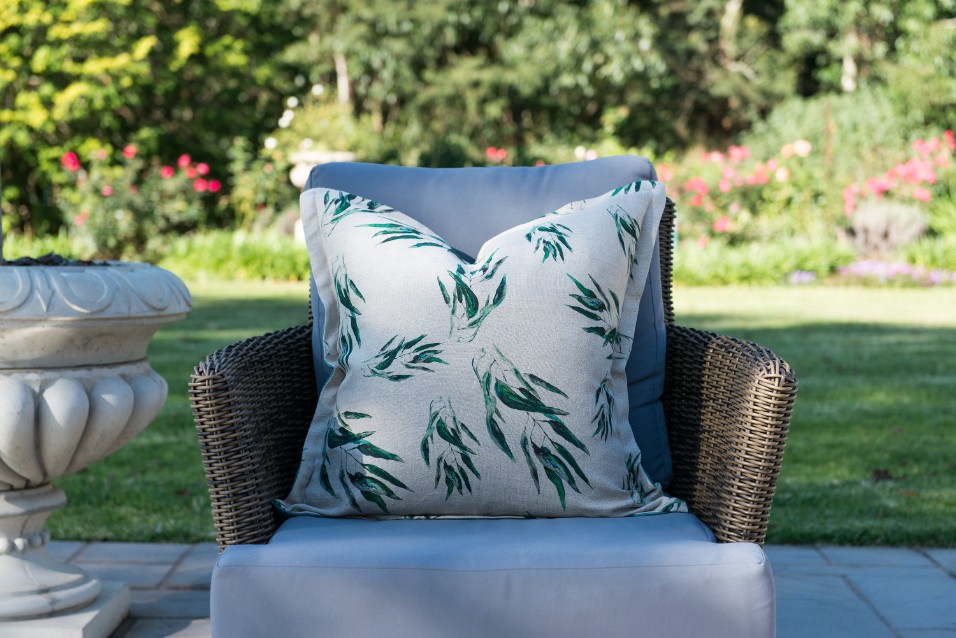 "I have always believed in pure products of outstanding quality that would add value to the normal things we do every day.
"I have always believed that it is in our simple daily tasks that we should seek beauty, and that it is never too much trouble to make our homes as beautiful as we can, simply."
I think she has really captured this ethos in the collection she will be exhibiting at the ECR House and Garden show.
Both Dee During from Wabi-Sabi Collections and myself have contributed to this new range, and, as local artists, we have really aimed at interpreting or incarnating the colour and feel of our hometown.
Dee is exhibiting her new collection of Wabi-Sabi product at the show, and my artwork has been used on the printed fabric designs and the designs embroidered on the new bed and bath linen.
Lynn explains her creative choices so vividly:
"I feel truly blessed to have grown up as a farmer's daughter in the Midlands and know that natural beauty is firmly embedded in my DNA. I wanted to salute our beautiful Nottingham Road and create a product that would honestly reflect the essence of our everyday lives here at home.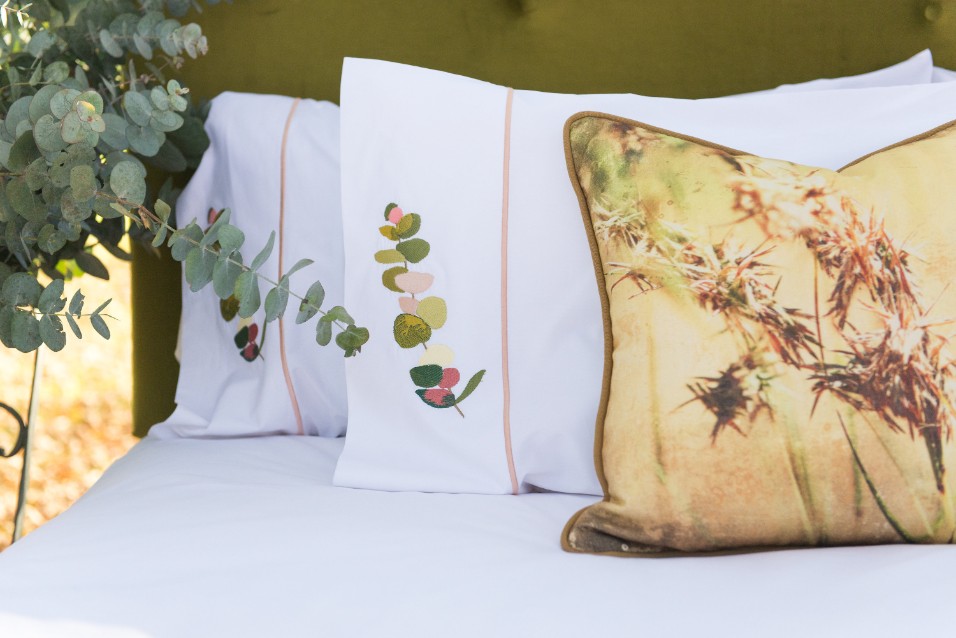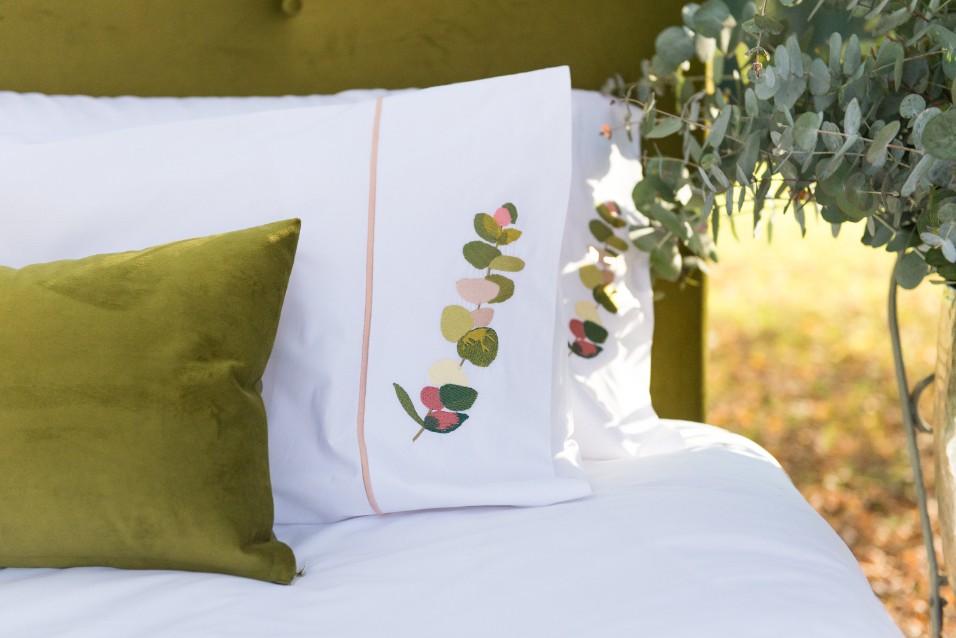 "So I chose to work on a theme of leaves, and felt that although we are surrounded by many exquisite exotic trees in our area, I wanted to use the really 'boring old gum tree' as the source of my inspiration, so this is what I did! It is also a product of nature, as are the fabrics I use in my product, all natural.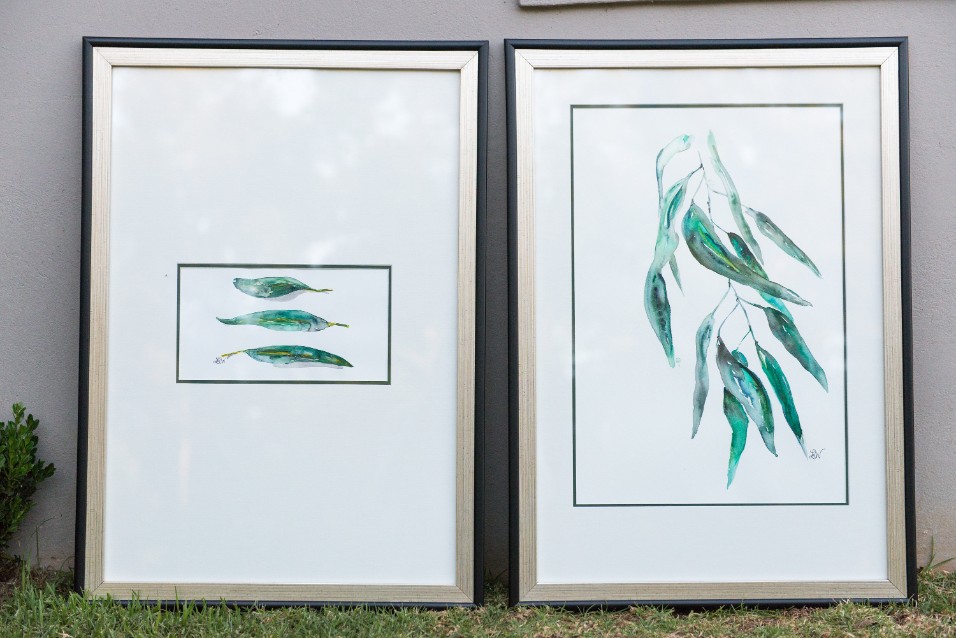 "When looking at the design (in different colourways) I can really feel those gum leaves and feel the Midlands in my bones, and this is what I hope the receptive discerning customer will feel too, and when taking the product home, will feel like they have a piece of the Midlands in their home, creating good memories forever!"
To get a taste of this everyday beauty, make sure you sample the collection yourself at the show. See all the details at housegardenshow.co.za.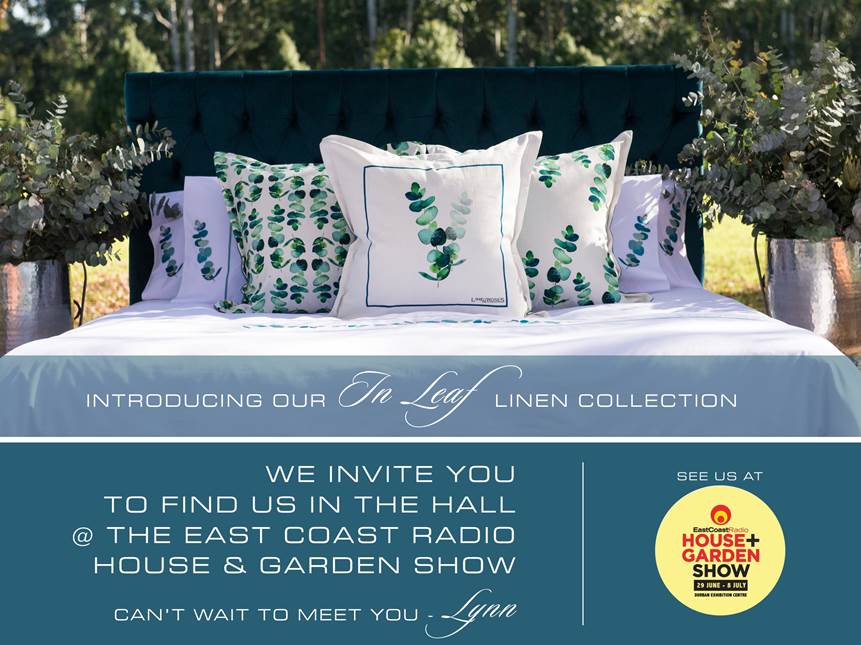 Article written by Lara Waldburger – Follow Lara on Instagram @larawaldburger
All photos by Kate Martens Photography